About
east coast raised, thirty something, self-proclaimed square thrivin' in the land of southern belles and hospitality.

Coming to terms with my inner FAN GIRL,
one fandom at a time.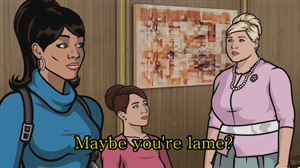 Pam Poovey is my spirit animal.

I think it's obvious from my feed that I love:
Buffy the Vampire Slayer
Dr. Who
Supernatural
The Walking Dead
Game of Thrones
Arrow
The Flash
Sherlock
Archer
Mad Men
The League
Always Sunny...
Breaking Bad
Torchwood
Family Guy
Bob's Burgers
Girls
Orange is the New Black
Comedy
Pop Culture
PEARL JAM
Music
Vinyl
ART
Booze
Pretty stuff + things
Geeky stuff + things
and a shit ton of other stuff + things...
People I follow